Importing Photos on Diptic for iPhone
18 Jun 2014
Select a layout and then tap a frame.
This takes you directly to your Camera Roll. If you want to import photos saved in your Camera Roll, you have a few options. First, decide whether you want to import multiple photos at once or one at a time. By default, Diptic will import one at a time, so select "Multi" if you want to pick several photos at once.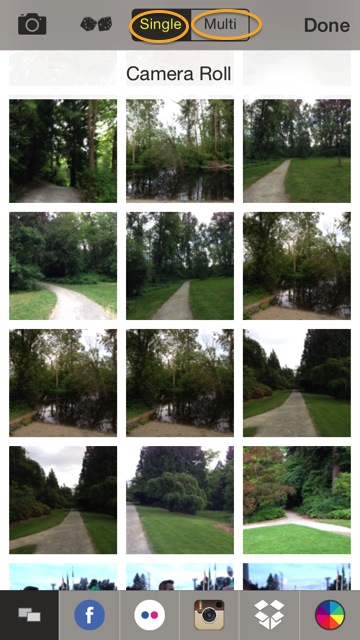 In the body of the menu, you should see your photos. You can scroll up to find the desired photos. Or, you can tap "Camera Roll" at the top of the menu, which triggers a drop-down menu with your device's albums.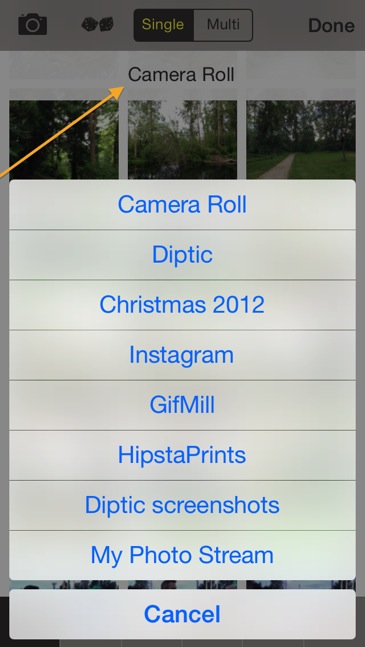 If you have a lot of albums, this menu is scrollable.
If you aren't interested in using photos saved to your Camera Roll, there are several other choices. On the top of the menu, you can press the camera on the top left to take a photo on the spot. You can also tap the dice to have the app randomly pull images from your Camera Roll to fill the frames.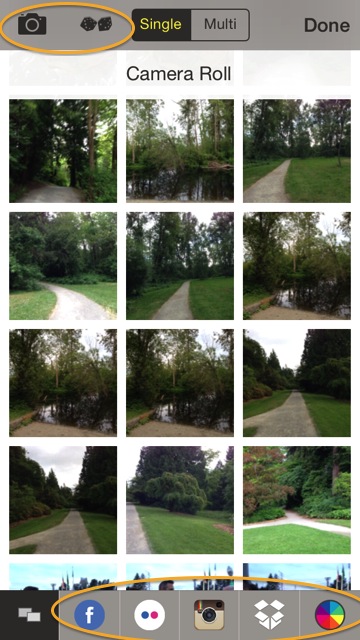 On the bottom of the menu, there are icons for Facebook, Flickr, Instagram and Dropbox. Tap one of these icons to import photos saved to that social network. If you'd like to fill a frame with color (instead of using a photo), tap the color wheel on the bottom right of the screen.
If you have any questions or having issues importing your images, please email us at support@dipticapp.com.
For further help, we recommend checking out these blog posts: