Diptic Pro Tip #6: Select Multiple Photos At Once
29 Jul 2013
Being able to select multiple photos at once can be a huge timesaver, especially when you're using a layout with a lot of frames.
Here's how you do it (as always, it's easy peasy):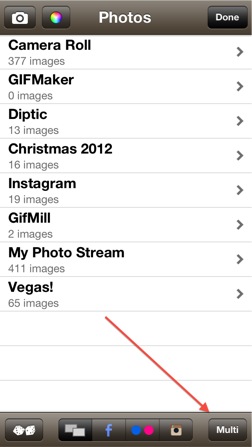 After tapping a frame to open your import options, tap the Multi button on the bottom right of the screen.
Tap the source from which you would like to import your photos (camera roll, Facebook, Instagram, etc.). Select the desired photos and tap Done.
Diptic then imports the selected photos into the open frames. At this point, you may want to switch your pictures around. To do this, tap the Diptic once with two fingers, one finger in each frame you want to swap. This will cause the two photos to change places. Repeat as needed.
If you have any questions or feedback, please reach out via email, Facebook or Twitter!