Diptic is Now Available On Windows Phone 8
25 Nov 2013
Today we're happy to announce that Diptic is now available on the Windows Phone Store. It incorporates many of the great features that our users have come to love, and we're excited to launch this new version of Diptic and make it available to Windows Phone 8 users worldwide.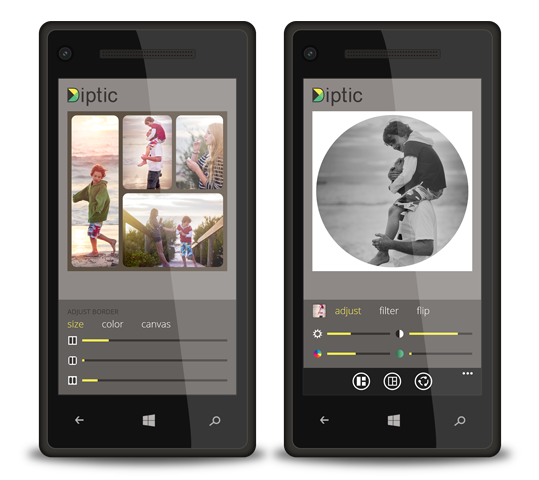 Diptic for Windows Phone 8 offers a robust set of features including:
75 layouts, allowing you to combine one to nine photos in a layout
Rotate, flip, zoom and mirror individual photos
14 filters. You can also adjust brightness, contrast, hue and color saturation
Round inner and outer borders, and select the background color when rounded outside borders are on
Adjust the border's width and color
Save Diptics to your device, send via email or text message, or share by uploading directly to Facebook or Twitter
Three export sizes: 1632x1632, 2448x2448, 3264x3264
Diptic for Windows Phone 8 is compatible with all Windows Phone 8 devices and is available worldwide on the Windows Store. Diptic for Windows Phone 8 is priced at $.99 in the U.S. and is priced accordingly in other regions. Check it out!
Happy collaging!